EXPO CHICAGO: In the thick of things
Sarah Hamilton
The walk into EXPO CHICAGO from the entrance to Navy Pier takes you down long corridors lined with confections and photo booths characteristic of the carnivalistic atmosphere Navy Pier is known for. Would this long walk be an omen of what EXPO CHICAGO held – an endless, fatiguing, gaudy market? Once in Festival Hall, however, the winding dark hallways of the mall give way to an aluminous open foyer. The bustling atmosphere of Navy Pier dissipated as the art crowd casually makes its way into the inaugural EXPO CHICAGO.
Immediately, the most noticeable and notable thing is the air of goodwill at EXPO CHICAGO. Mainstay institutions like the Art Institute of Chicago, the Museum of Contemporary Photography, Hyde Park Art Center, and the Renaissance Society have been included to showcase some of their work, but so too have Bad At Sports, threewalls, Artspace, Design Bureau and so forth. These booths line the walls, surrounding the commercial spaces, and adding a very necessary atmosphere of community and collaboration to the fair. It gives EXPO the support and energy that seemed to be lacking from previous incarnations of art fairs.
Some of the contemporary highlights include Donald Moffet's prickly paintings at Anthony Meier Fine Art; and Zilvinas Kempinas' oscillating-fan-and-magnetic-tape work at Yvon Lambert Gallery that, in spite of its minimal aesthetic, constantly draws a crowd to watch the tape dance in mid-air. James Cohan Galleryhas set up a small installation of Yinka Shonibare MBE's Fake Death Picture series, augmented by a taxidermy fox sculpture, Revolution Kid (fox girl). The whole effect of the installation is visually arresting, the luscious prints set against a deep red background. At Leslie Tonkonow Artworks, large-scale C-prints by Laurel Davis dominate the booth with haunting and mysterious midnight desert subjects that draw on the eye and the imagination.
Some old standards are present as well. Alan Koppel Gallery has a nice selection of Walker Evans, Gary Winogrand and Ray Johnson, and the inclusion of the Gordon Parks Foundation, whose small installation of "Gordon Parks at 100" is a nice contribution. True, EXPO CHICAGO doesn't have some of the blue chip dealers that you would see at the Armory in New York City, but that's a compliment. The tired contemporary juggernauts give way to a fresher, more dynamic, and ultimately more interesting art fair.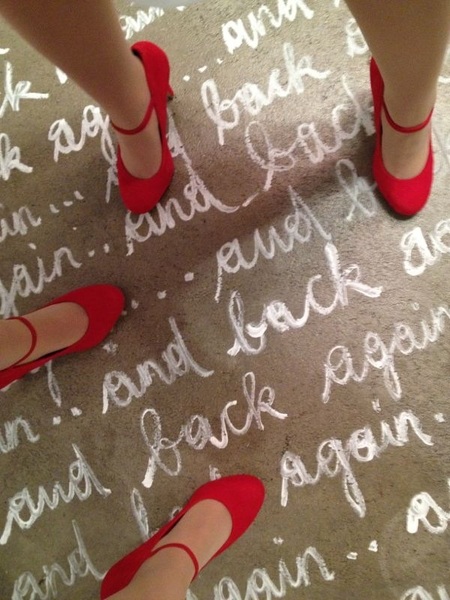 Detail from Bourouina Gallery; Courtesy Bourouina Gallery, Berlin.
At Bourouina Gallery, for instance, there is no artwork on display at all. Instead, the gallery let two of its artists, Adam Saks and Zenita Komad, design the entire booth. Fairgoers who approach the booth are asked to sit on a sofa in front of a giant medical cross. Two "doctors" present you with a deck of cards and, after you choose one, they "diagnose" you by bringing you an artwork out of the series of drawings. The booth is a performance itself, breaking the monotony inherent to large-scale art fairs and long days on your feet. It forced a conversation between the viewers and the doctors (one of whom is Komad), and was a welcome change of pace. Alternately, over at the Contemporary Art Museum St. Louis booth, artist Lauren Adams' installation We the People has fairgoers painting plates with messages of protest, which are in turn displayed on a plate rail over the booth. The entire booth is papered over with Revolutionary War-era wallpaper, painted with slogans and chants taken from both Occupy Wall Street and the Tea Party movement.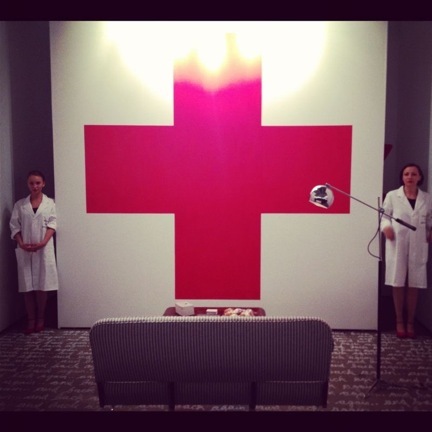 Bourouina Gallery Booth, Expo Chicago, September 2012. Image courtesy of Bourouina Gallery, Berlin.
The In/Situ portion of the EXPO was also a pleasant contribution to the fair. Curator Michael Ned Holte placed large-scale works by ten artists throughout Festival Hall, an increasingly common practice at large-scale art fairs these days, but Holte's exhibition also included a special cordoned-off Expo/Video gallery. Seeking out the video section is akin to getting lost on your way to the bathroom: you find yourself in a quiet, removed part of the hall with a few conference room doors invitingly propped open. In the first room, D'Ette Nogle has set up an intricate viewing gallery with her work Michael Clifton & Michael Benevento and D'Ette Nogle Present: Information From Two Sources. A brief video welcomes you to the "seminar", then directs you to two other videos playing in separate rooms, one in which Nogle explains the complications of currency, and another in which she reads an interview with Blake Lively. The entire set-up has the feeling of a creepy overpriced business seminar, complete with lo-fi video and uncomfortable chairs. By contrast, down the hall, Jan Tichy collaborates (posthumously) with Lazlo Maholy-Nagy in Things to Come 1936-1912. The work, a three-channel, large-scale piece, is elegant by itself, but complements the work of Nogle and other Expo/Video artists while still functioning in relation to the art fair down stairs.
As I was leaving down the long corridors of Navy Pier (the same way I had come in), I walked behind a couple, fatigued and smiling, discussing their experience. They seemed giddy, excited, just like children after a long day on the Pier. Indeed, for the art-fair weary of Chicago, EXPO CHICAGO is a welcome day at the fair.